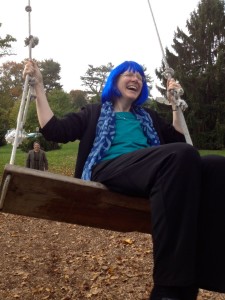 How funny human beings are, right? Every second of our lives is more amazing and strange and wonderful than 99.99999999% of what happens or doesn't happen in the rest of the galaxy on a typical day, and most of the time we don't see it. Ho-hum, so maybe the croissant this morning was a little sub-par. But . . . a sub-par croissant? I don't know of any other sector of the galaxy where croissants even exist!
I was looking forward to 2012 for a very long time–the year my book was going to come out! It may be hard for you to remember, but 2012 used to be a long, long time in the future. I was thrilled and nervous and everything you'd think. I didn't know what to expect. I did know it was going to be crazy busy, because THE CABINET OF EARTHS was coming out in January, and I was teaching and chairing my department, and I had to totally revise the second book (A BOX OF GARGOYLES), and then that summer I had to write a third book, and I didn't know what that was going to be about yet, even. But I made plans for a nice writers' retreat at the end of the semester, and I hoped for the best.
And then it turned out, of course, that all my feverish imaginings and anticipations bore no resemblance at all to what the universe had planned for my actual life.
Because what actually happened was that on the day I was supposed to sign books with a couple of other first-time children's book writers whom I hadn't yet met in person–Jenn Reese, who wrote ABOVE WORLD and then MIRAGE and now HORIZON, and Jenny Lundquist, author of SEEING CINDERELLA and PLASTIC POLLY and THE PRINCESS IN THE OPAL MASK (read these books! they're great!) –anyway, an hour before the book-signing started, the doctor whose name was on my health card but whom I had never met, called me into her office to tell me that she was awfully sorry, but the results were in, and I had breast cancer.
Turns out that hating pink is totally not an effective anti-cancer measure. Who knew?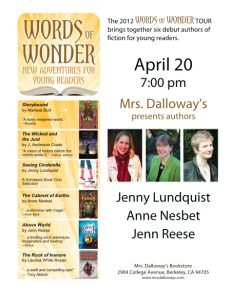 And then I had to go directly from the doctor's office to the bookstore for the event. Like billions of people on various traumatic occasions, I thought (as I was driving to the bookstore with my hands shaking on the wheel): "How can I do this? I can't possibly do this!"–and I don't know whether I meant the book-signing thing or the having cancer thing. But you know what? You do what you gotta do. I did them both.
And it was amazing. I'm telling you, it was amazing. Not always in a good way, but it was astonishingly interesting.
The writers retreat I had had planned for so long (so that I could finish revising A BOX OF GARGOYLES) had to be cut short so I could have surgery, but we did manage to go out to the edge of the Pacific Ocean and saw an enormous osprey watching over the world and all the wild irises you could hope for, and the sweetness of it all was astonishing. For an hour one afternoon I shut the laptop and dozed off with the sea murmuring nearby and the sunlight getting goldener and goldener, and I was perhaps as happy as I'd ever been. And I revised that whole darn book by the time we left.
Then two days after I got home from the hospital — in other words, I was still pretty much a cyborg creature, unfit to be seen–there was a partial eclipse of the sun. I wasn't really able to leave the house yet, but I staggered out into the street anyway. I had no idea that partial eclipses were so amazing. You know what happens in a partial eclipse? The leaves of all the neighborhood trees turn themselves into pinhole cameras, and all the walls and garages and street pavements and indeed all possible surfaces are covered with leaf-shadows and a thousand thousand tiny crescent suns.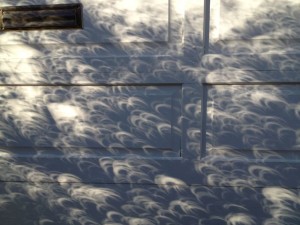 It was beautiful. It was amazing. People walking through the streets were calling out to each other, to complete strangers: "Do you SEE that? Do you SEE that?" That's what it was like. One of those rare occasions where you know how wonderful it is that we're alive and live in a place with trees and leaf-shadows and partial eclipses.
So, okay, fine, embracing the unexpected is easy enough when we're talking partial eclipses of the sun, but what about chemo? Can chemo be embraced? Yes and no, yes and no. I mean: I'm here to tell you it sort of can. Chemo is also an extremely interesting experience. You get long lists of really awful-sounding side effects, and then they all actually do happen to you. In a way it's like being 12 or 13 all over again: bizarre things happening to your body that you can't control.
Here is the gift of being a writer: I was very eager not to forget anything. All the little details! It fascinated me that a few days after chemo, the tip of my tongue would always feel as if I had burned it on hot coffee. How weird! How can medicine do that? And of course losing my hair was a thrill. Fortunately I had a friend with a house by Lake Tahoe, and she invited me up to visit, the weekend the side-effects sheets promised I would lose my hair. She was very enthusiastic about the process, too. Every morning she'd say, "OK, Anne! Let's see! How's it going? Making progress? Oooh, yes, you are!" — which is probably exactly the right attitude under the circumstances. And then I'd go down to the lake and leave more tufts of hair in the cold turquoise water.
That was the weekend I decided I was going to go blue, hair-wise. See, it was a great opportunity. I had spent much of my life being the sort of person who dreads standing out: but now I was going to stand out, no matter what: bald stands out; tall and bald really stands out; tall and bald with a cancer-hat on top stands out just as much — why not go blue, really?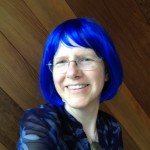 I taught all fall in blue hair, and it cheered things up in class, I do believe.
But my point here is: This is what life is like for everybody! Life swerves off the rails and surprises us and turns us upside down and breaks our heart–all the time, it does things like that. Life is hard. Life is amazing. That is true for kids, too. It's true for all of us. We are really, really, truly in the same boat, where the pain and loveliness of life are concerned.
And I think that one of the most important things we can do, as writers of children's books, is to hold out our hands to kids and say, "Yes! You're right! Life is hard and it's amazing! You are not alone." Every book is a hand held out to a child, welcoming them as fellow human beings, for whom life is so hard and so amazing.
Good books help us all through. They tell us we're not alone. They give us ways to imagine things being Otherwise, when ordinary life seems just way, way too hard. They connect us to other people who understand how things are, even if some of those other people are spiders (Charlotte's Web! James and the Giant Peach!) or dragons or guinea-pigs or hobbits.
If you happen to be a writer, your stories can make life better for actual, real children. That's an astonishing thing, really, when you think of it. Just by being stories, they can make things better, because when a kid who has read a lot of stories runs into the hard stuff life is full of, he may remember that his life, too, is a kind of story. That can give a person hope.
So please, writer friends, keep doing what you're doing. Reach your hand out and tell us again: Life is hard. Life is amazing. Pass it on.