My book about a girl navigating her way through a divided imaginary world has launched–into a real world that is also divided, and also, as this week reminds us, under many shadows. What can a mere story do, in the face of all the trouble in the world? And yet, that's ultimately WHY I write books for children: because life is so hard, and yet at the same time so amazing. The kids know this double truth; they experience it every day, in small and large ways. A story can reach out to them and say, "Yes. Yes. The world is great and terrible. You're not imagining that! Hold onto your hearts and hold onto your stories, and we'll walk together a while…."
So here is an account of some of the small (and not-so-small) joys that came with the birthday of The Wrinkled Crown this week!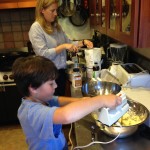 We had a lovely launch party at Books, Inc. in Berkeley. Because music is so important to the story, my daughter and her friend played duets, and because cookies are so important for any party, my friends Kathy and Isa (who is a cousin as well as a friend) helped design gorgeous and delicious–and thematically-appropriate!–treats.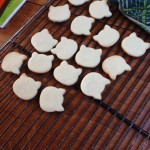 On the right you can see some cookie-baking cousins in action. Soon there was flour on the floor and the lovely scent of cookies baking! Half-Cats emerged from the oven, all toasty and sweet.Then we dipped them into chocolate so that they would be properly HALF-Cats! This is Kathy's batch here–they were amazingly yummy: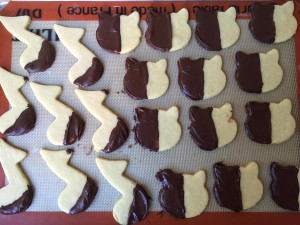 At the party that evening so many people turned up!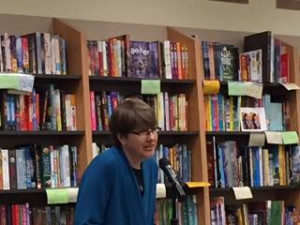 I spoke about making up folklore from scratch and about stereoscopes, and I think everybody had quite a fine time (here's part of the crowd–look at those smiles!):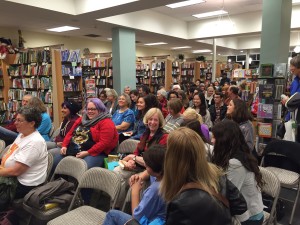 I am so grateful to everyone for helping The Wrinkled Crown start its life in the world in such a tasty, music-wreathed, joyful way.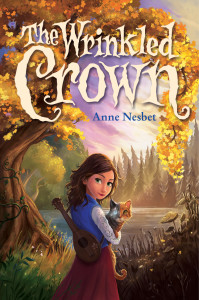 The Wrinkled Crown
Up in the magical, wrinkled hills, Linny breaks an ancient law. No matter how musical a girl may be, she must not so much as touch a string of a lourka before she turns twelve, or she'll be spirited off to Away. But Linny, born nimble-fingered and tune-filled, can't resist: she makes a lourka of her very own. When the curse meant for her strikes her best friend instead, Linny must leave her home behind to try to set things right. With her father's young apprentice, Elias, she travels down into the Plain, where science may have found a cure for magic. Linny and Elias soon find themselves caught up in the age-old battle between the wrinkled places and the Plain. Can Linny keep the fractured land from falling apart—and save her best friend?

"Nesbet's writing is deft and unpredictable, with adventure following adventure, keeping readers hooked to the end" (School Library Journal, starred review); "Nesbet's confident worldbuilding creates a fascinating picture of two diametrically opposed cultures . . . .a thought-provoking picture of the ways that misunderstandings and miscommunication can create animosity and how both the conflicts of those in power and the power of story can shape the lives of everyday citizens" (Kirkus); "It's subtle and intelligent, making me think of such classics as Norton Juster's The Phantom Tollbooth at one point and of the best of Diana Wynne Jones at another" (LOCUS); "Nesbet's fable explores the relationship of science, logic, and imagination, forging ahead with eventfulness and visual richness" (Horn Book).