My middle-grade friendship-and-spying novel, CLOUD AND WALLFISH, will be coming out from Candlewick very, very soon: September 20, 2016, to be exact! [UPDATE: September 20 became September 2, so it is out in the world, but we are celebrating this book's un-birthday all this week, until "September 20″!] [[for more on "un-birthdays" see my post over at the Middle-Grade Mayhem blog: http://project-middle-grade-mayhem.blogspot.com/2016/09/alice-east-germany-and-un-birthday-of.html]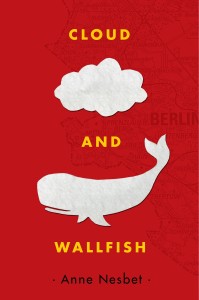 The story: "Noah Brown's ordinary, everyday life is smashed to smithereens the day his parents tell him his name isn't really Noah, his birthday isn't really in March, and his new home is going to be East Berlin, on the other side of the Iron Curtain. It's 1989, and everywhere all around countries are remaking themselves, but in East Germany the air is full of coal smoke, secrets, and lies. It's not safe to say anything out loud in the apartment. It's not safe to think too much about where you came from or who you used to be. It's also about the least likely place in the world for a kid from America with a lot of secrets of his own (and an Astonishing Stutter) to make a friend. But then Noah meets Cloud-Claudia, the lonely girl who lives one floor down with her terrifying grandmother. Something has happened to her parents, but what? Armed with a half-imaginary map and a shared fondness for codes and puzzles, Noah and Cloud-Claudia have to find their way in a world where walls–and the Wall–are closing in."
School Library Journal: "A great choice for those looking for a thrilling historical fiction or coming-of-age tale."
Publisher's Weekly: "[T]he story's heart lies in the friendship between Claudia and Noah, and in the lengths loved ones will go to in order to break down even the most formidable walls."
Cloud and Wallfish is also a Junior Library Guild selection.
But here's the most important point of all: Cloud and Wallfish is a book I would love for you to read!
So I am collaborating with one of our wonderful Bay Area independent bookstores, Books Inc., to bring you a special UN-BIRTHDAY OFFER! All prepaid orders before September 20 of Cloud and Wallfish through Books Inc. will come to you signed by the author AND with a little custom puzzle based on a photo I took when living in East Berlin in 1989!
Click on this link to order through Books, Inc: http://www.booksinc.net/book/9780763688035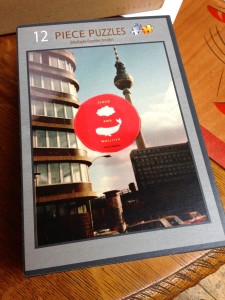 (Books Inc. can't ship books abroad, though–sorry about that!)
P.S. Why a puzzle? Because it is over a jigsaw puzzle that Noah and Claudia become friends, at a moment when something unspeakably terrible has happened to Claudia's parents. Sometimes, when words fail, a puzzle can "hold a small part of the chaos of the universe at bay, like a tent built well enough not to leak." (See Secret File #12, "A Tip for Unspeakably Terrible Times.")
P.P.S. Come to a launch party for Cloud and Wallfish if you can!
West Coast: Wednesday, September 28, 2016, at 6 p.m., at Books Inc. in Berkeley (on Shattuck Avenue).
East Coast: Friday, October 14, 2016, at 7 p.m., at Book Culture on Columbus (at 82nd Street) in New York City.
P.P.P.S. Thank you!