[On June 12, 2017, Cloud and Wallfish was awarded the California Book Award gold medal in the Juvenile category. The ceremony took place at the Commonwealth Club in San Francisco, and it was lovely! This was my speech….]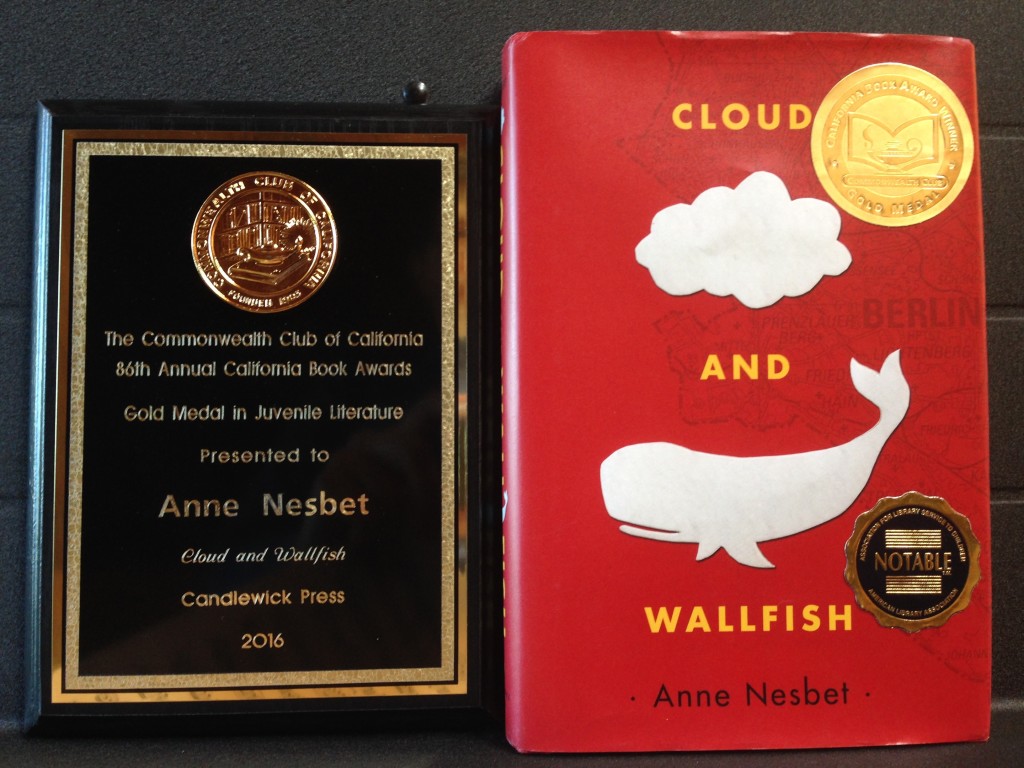 A Chance to Practice Being Human:
Books, History, and Learning to Breathe
Thank you to the Commonwealth Club and to everyone here for caring so much about books. And in particular, for caring about books for children. As I think you may remember, it is not actually easy to be a child–and especially not so easy when the grown-up world around you is fractured by anxiety and conflict and political tension. Which was the case when I was little and having nightmares about the Vietnam War, atom bombs, and Nixon, and of course is the case again today, although the nightmares have taken new shapes. It is the challenge of living in historical times.
Here's the thing though: Books can help us all through. They tell us we're not alone. In hard times, they give us ways to imagine things being Otherwise. They allow us to live many different lives, which is really a way of saying that they give us a chance to practice being human, again and again and again.
Because it turns out that being human is something we do have to practice, so that when history happens to us, we have already thought a bit about things like what we want to be true to–and what it even means to be "true."
Noah, the main character of Cloud and Wallfish, is dragged off to East Germany in 1989 by parents who seem to have been keeping secrets from him all his life–parents who announce his name is not actually Noah, and his birthday isn't really in March. Noah does have a book in his backpack, though, and fortunately for him, it's a good one: Alice Through the Looking-Glass. The absurdities of the Red Queen can be helpful when dealing with governments obsessed with surveillance, border control, and Humpty-Dumptyish propaganda.
When Noah makes friends with Claudia, the lonely girl downstairs, he finds himself caught up in a mystery–what happened to her parents?–that is part of a larger mystery–what is happening to East Germany? He has to become part of history, and being part of history is sometimes scary and sometimes thrilling and also, by the way, the scary-thrilling place where today's young readers find themselves right now: living in history.
There's a lot of history in Cloud and Wallfish, and that's by design and thanks to the spirit of adventure exhibited by my wonderful Candlewick editor, Kaylan Adair. If you are going to set a story for young readers in 1989 East Berlin, a time and place they will not have encountered in school, you have to let them in on a lot of cool secrets. When I talk to students in schools, I am inspired by their hunger for history. They think it's pretty great that in 1989 I, like my character Noah, was actually living in East Germany. They want to know more about the world. They know, as Noah learns, that the only way to find out the truth is to keep asking questions–and then to keep asking more questions.
Books are necessary, like air. Reading and writing are a kind of breathing: we breathe the world in, it mixes with every part of us, it feeds us and energizes us, and then we exhale, and some of us travels out with that breath, with that story. When we hand children books, we are helping them learn to breathe. Probably there is nothing more important or more wonderful than that! Thank you all!