Cloud and Wallfish
Friends you make while the world is falling apart are friends you keep forever.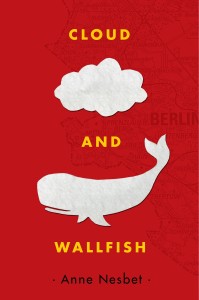 Noah Brown's ordinary, everyday life is smashed to smithereens the day his parents tell him his name isn't really Noah, his birthday isn't really in March, and his new home is going to be East Berlin, on the other side of the Iron Curtain. It's 1989, and everywhere all around countries are remaking themselves, but in East Germany the air is full of coal smoke, secrets, and lies. It's not safe to say anything out loud in the apartment. It's not safe to think too much about where you came from or who you used to be.
It's also about the least likely place in the world for a kid from America with a lot of secrets of his own (and an Astonishing Stutter) to make a friend.
But then Noah meets Cloud-Claudia, the lonely girl who lives one floor down with her terrifying grandmother. Something has happened to her parents, but what?
Armed with a half-imaginary map and a shared fondness for codes and puzzles, Noah and Cloud-Claudia have to find their way in a world where walls–and the Wall–are closing in.
"This is edgy, dramatic, and emotionally rich historical fiction that provides a vivid look into an extraordinary moment in history" (Horn Book, starred review).
CLOUD AND WALLFISH won the California Book Award (gold medal, Juvenile category) and was named "2017 Middle Grade Book of the Year" by the Northern California Independent Booksellers Association (NCIBA). It also won the 2017 Northern California Book Award (Children's Literature/Older Readers) and was on the 2017 Bank Street Best Children's Books of the Year list. It is a Junior Library Guild selection and was named an ALSC Notable Children's Book for 2017; it was also on the Cooperative Children's Book Center best-of-the-year list ("CCBC Choices 2017″) and the "Notable Social Studies Trade Books for Young People 2017" list from the Children's Book Council, and Barnes & Noble included it as one of "10 Notable Middle Grade Novels of 2016″ on the BNKids blog.
************************************************************************************************************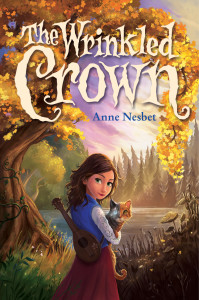 The Wrinkled Crown
Up in the magical, wrinkled hills, Linny breaks an ancient law. No matter how musical a girl may be, she must not so much as touch a string of a lourka before she turns twelve, or she'll be spirited off to Away. But Linny, born nimble-fingered and tune-filled, can't resist: she makes a lourka of her very own. When the curse meant for her strikes her best friend instead, Linny must leave her home behind to try to set things right. With her father's young apprentice, Elias, she travels down into the Plain, where science may have found a cure for magic. Linny and Elias soon find themselves caught up in the age-old battle between the wrinkled places and the Plain. Can Linny keep the fractured land from falling apart—and save her best friend?

"Nesbet's writing is deft and unpredictable, with adventure following adventure, keeping readers hooked to the end" (School Library Journal, starred review); "Nesbet's confident worldbuilding creates a fascinating picture of two diametrically opposed cultures . . . .a thought-provoking picture of the ways that misunderstandings and miscommunication can create animosity and how both the conflicts of those in power and the power of story can shape the lives of everyday citizens" (Kirkus); "It's subtle and intelligent, making me think of such classics as Norton Juster's The Phantom Tollbooth at one point and of the best of Diana Wynne Jones at another" (LOCUS); "Nesbet's fable explores the relationship of science, logic, and imagination, forging ahead with eventfulness and visual richness" (Horn Book).
************************************************************************************************
A Box of Gargoyles

Sometimes it's just when you think everything's finally all right with the world that the gargoyles come looking for you . . . . . Maya is starting to feel at ease in the magical old town of Paris, and she's enjoying her friendship with Valko Nikolov. But then strange things begin to happen in the city. Stone gargoyles are showing up where they shouldn't be, and a shadowy person-sized column of leaves and dust–with hints of purple where its eyes would be–keeps following Maya everywhere. That shadow–or the magician he used to be–is behind the dark magic that ripples throughout Paris. And now he has bound Maya to make him whole again–even if that means trading her life for his.

"A flavorful mille-feuille with equally tasty layers of dark magic, light comedy and salty determination" (Kirkus, starred review) . . . "all elements of her story fairly quiver with life" (Horn Book)

************************************************************************************************<
On their first day in Paris, Maya and her little brother, James, find themselves caught up in some very old magic.  Houses with bronze salamanders for door handles, statues that look too much like Maya's own worried face, a man wearing sunglasses to hide his radiant purple eyes–nothing is what it seems.  And what does all that magic want from Maya? With the help of a friendly boy named Valko, Maya discovers surprises hidden in her family tree–grandmothers who walked in magic, a cousin so unremarkable she's actually hard to see, and a terrible family habit of betraying one's brother.  To save her own brother, Maya must take on the magical underworld of Paris . . . before it is too late.

"a-shimmer with magic" (Horn Book) . . . "charmingly creepy" (Kirkus) . . . "evocative prose and a confident narrative voice" (Publishers Weekly) . . . "readers will be swept along by the novel's swift pace"(Shelf Awareness) . . . "a unique, interesting fantasy with just enough suspense to keep readers turning the pages into the night" (VOYA)

THE CABINET OF EARTHS was on the Winter 2011-2012 Kids' Indie Next List!
It also made the Chicago Public Library's "Best of the Best" list, is on the 2013 Bank Street Best Children's Books of the Year list, and was a 2012 Cybils award finalist!